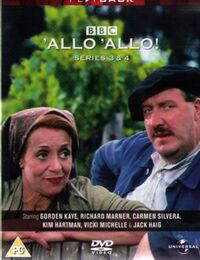 Series 4 refers to the fourth series of the BBC's Allo Allo which ran from 7 November 1987 - 12 December 1987, lasting for a total of six episodes.
Series 4 marks the last regular appearance of Sam Kelly as Captain Hans Geering; though he returned for a one-off special appearance in series 7. Francesca Gonshaw left at the end of the third series; though the exit of her character, Maria, is not explained until the second episode of this series.
This series also sees the first appearances of Sue Hodge as Mimi Labonq in the third episode, as the new café waitress; and in the same episode Gavin Richards as Captain Alberto Bertorelli, the seconded Italian captain.
Episodes
Edit
Ad blocker interference detected!
Wikia is a free-to-use site that makes money from advertising. We have a modified experience for viewers using ad blockers

Wikia is not accessible if you've made further modifications. Remove the custom ad blocker rule(s) and the page will load as expected.